Talent development and career path planning
Basic concept
We share our corporate mission and SPORTS FIRST approach, and have created trainings specific for different company levels as well as elective training programs for the purpose of nurturing unbound imagination and creativity to design the future in our human resources. In addition, we also conduct career consulting and make revisions to our human resource system as ways to support our employees in planning their career paths. We create conditions that respect employees' diverse values and allow employees to enhance their abilities.
Company level-based trainings
We have prepared educational programs corresponding to different company levels, from new employees to managers. In FY 2020, trainings were impacted by our decision to voluntarily refrain from holding group trainings to prevent the spread of COVID-19, but we adapted by expanding our on-the-job (OJT) training in individual departments as well as online trainings. This allowed us to offer training content close to what is normally offered.
Main level-based trainings
Training
Training hours
per person
(hours)
Participants (persons)
Training purpose and content
FY
2018
FY
2019
FY
2020
New employee training
64
31
40
29
This training is designed to have talent engaged in processes from planning and production to sales at a sports manufacturer experience jobs other than their own and leverage this experience in their work. New graduate employees and mid-career hires regularly participate in this training at Goldwin Tech Lab, our R&D center. New employees learn about our corporate history in the archive corner, and learn the basics of manufacturing by practicing sewing to create their own sports apparel.
Fourth and fifth year training
14
19
22
19
Employees gain an understanding of their own interpersonal style, and study key points in deepening ties with others (social skills in interpersonal relations). Employees gain experience-based understanding of model ways to have a team with strong ties.
New leader training
14
20
24
23
This training creates the foundational knowledge and base for GOLDWIN managerial positions for employees assuming their first managerial position.
New manager training
28
32
13
25
The following three areas form the training curriculum designed to have employees make contributions as managers leading the future of GOLDWIN.
(1) The basic roles managers are expected to perform
(2) Skills to get the most out of teams, and skills to direct and support team members
(3) Self-understanding as a manager
Labor management training
8
87
26
–
This training is designed for employees to get accurate knowledge of legislation related to labor management that they can then use in their day-to-day work.
[Total of four curriculum sessions]
(1) Understanding environmental changes pertaining to labor management
(2) Types of workers used for company management, and points to keep in mind when using workers (overview)
Working hours, days off, breaks, the Article 36 agreement, vacation, leave
(3) Points to keep in mind when using contract employees and part-time and temporary workers
(4) Creating harassment-free workplace environments
Business leader program
90
–
–
13
By achieving diversity in our core human resources, we are developing next-generation business leaders able to realize sustainability. In this program, participants envision what our company will be 30 years in the future and learn about the roles future management leaders are expected to perform.
School of S²AT for nurturing creativity
We have operated the School of S²AT (pronounced "sat") for all employees since November 2020. This is an original training program designed to nurture individual employees' creativity. S²AT is an acronym for sports, science, art and technology. The program can be likened to an in-house university, where people active on the front lines of various fields are regularly invited to give presentations facilitated by employees. The program is designed to sharpen the intuition and perceptiveness of employees in real-life fields while they engage in a range of experiences. Since the program's launch in November 2020, a total of ten online sessions have been held through August 2021.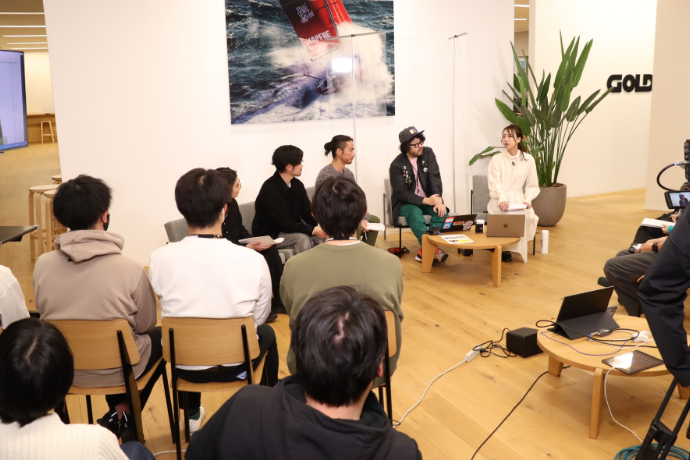 Career support for employees
Employees are given regular career consultations in order to 1) be able to objectively view their own situation in the context of social changes, 2) become aware of and understand the changes and apply them to their own situation, and 3) have opportunities to consider their own strengths and skills to survive and thrive in the future. In addition, employees are prompted to have greater awareness of their own career at regularly held career workshops, and are given individual consultations upon request. In FY 2020, 152 employees participated in the career support program.
Shift to job-type HR system
We are planning to transition to a job-type HR system in FY 2022 as another way to support employees in planning their career paths. In this new system, employees will select the career path of their choosing, from among a management or a professional track. Human resources in management positions are management professionals who chart and implement roadmaps of their organization's direction, create teamwork among company talent, and drive their organization to achieve targets. Human resources in professional positions use their wealth of specialized knowledge and high-level skills to anticipate changes in customers, markets and society, incorporate new approaches in our company and propel business growth. Through the transition to this new system, we will lay the groundwork for individual employees to unleash their full potential while both embracing employees' diverse values and obtaining the model qualities we need from employees.