Report on Other Activities
Our Measures in Respond to the Coronavirus Outbreak
Our efforts
We are taking immediate measures in response to the coronavirus outbreak to ensure the safety of our customers, employees, their families, and all related parties.
[Enforce through prevention of infection and health management]
In principle, we have stopped receiving visitors and canceled or postponed unnecessary and non-urgent business trips in Japan and overseas.
In principle, we have canceled or postponed internal and external events, workshops, and social gatherings.
Thorough health management and infection prevention actions such as hand washing, gargling, and disinfection.
Going forward, we will continue to comply with the policies of the national government and local governments, protect the safety of our customers and employees, and give top priority to preventing the spread of coronavirus.
Support
Donated original cloth masks, goggles, and face shields
We have developed an original cloth mask that can be washed and reused using material from our Speedo swimsuit brand. We donated 6,000 masks to Oyabe City, Toyama Prefecture. We also donated 3,000 original cloth masks, 800 goggles for medical professionals, and 100 face shields to Shibuya Ward, Tokyo, with whom we have signed a comprehensive cooperation agreement, S-SAP Agreement. We donated 1,000 masks to athletes with severe disabilities (Japan Boccia Association, Japan Wheelchair Rugby Federation, Japanese Para-Swimming Association, Japan Para-Ski Federation, wheelchair tennis, etc.).
Support activities for medical professionals
We donated our product Goldwin/C3fit general medical device compression stockings and MXP's high-performance T-shirt that applies the technology of space innerwear to medical professionals who are working day and night to save precious lives while risking becoming infected themselves.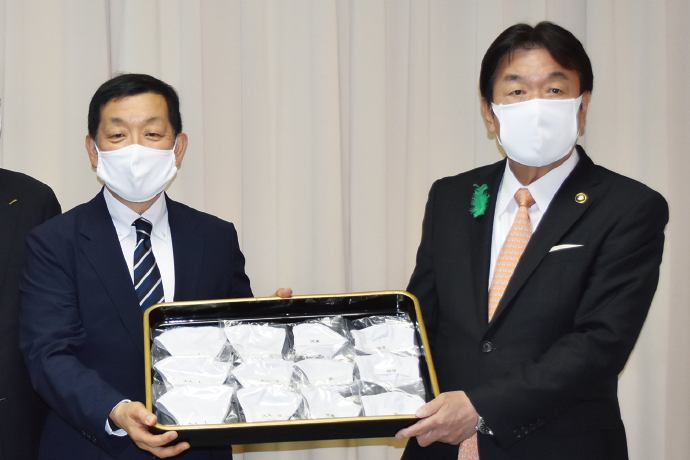 Developing protective clothing (medical gowns)
We are developing protective clothing (medical gowns) for medical professionals who are at the forefront of treating infectious diseases.