Approaches to Sustainability
At GOLDWIN, we engage in business with the corporate philosophy/mission "to realize a fulfilling and health y lifestyle through sports" and with the management policy, "Strong, Fast, Transparent Management." The apparel industry emits a large amount of carbon dioxide, the second largest in all industries. It has been said that yearly water consumption is enough to fill 23 million Olympic pools. The amount of herbicide and pesticide used in cotton cultivation is highest amount used within all agriculture, so much so that the average lifespan of cotton farmers in India is 38 y ears. This shortened lifespan caused by this industry is concerning. We will seriously take on these challenges and contribute to the sustainability of the planet and society by reducing the environmental impact encompassing the entire supply chain and improving lives through manufacturing as well as creating a fulfilling and health y lifestyle through sports, the outdoors and the nature-experience. To implement this, we have created the Basic Policy of ESG Management as well as put in place an ESG management promotion framework. The whole company will accelerate these initiatives for sustainability.
Basic Policy of ESG Management
Every aspect of GOLDWIN Group's operations̶from manufacturing to sales̶is rooted in our corporate mission to "realize a fulfilling and healthy lifestyle through sports." Additionally, we will also leverage our passion and respect for sports to enhance our management transparency, create workplaces that enable employees to continue working in good health, make considerations for the global environment and biodiversity, and contribute to developing the future generation, local communities and the broader society through sports.
ESG management promotion framework
At GOLDWIN Group, the President and Representative Director holds the highest responsibility and authority for overall ESG management and is responsible for its effectiveness, based on the Basic Policy for ESG Management. Under the supervision of the President and Representative Director, the Corporate Planning Division and Human Resources and General Affairs Division facilitate ESG management. Since April 2021, the previous CSR Committee was renamed the ESG Management Committee to promote ESG management throughout the Group. This committee has its administrative office in the CSR Promotion Department and the General Affairs Department. Subsidiaries, the Business Division, the Sales Division, the Sourcing Division, the Corporate Planning Division, the Human Resources and General Affairs Division, the Management Division and others responsible for business execution participate as members to deliberate on non-financial projects and annual projects as stated in the long-term vision PLAY EARTH 2030 and to examine the quarterly status of projects and ESG management issues within the Group. The ESG Management Committee reports the implementation status of ESG management to the Board of Directors once a year and obtains its approval. Of particular concern to (E) Environment, we obtained ISO 14001 certification in 1999, the first to do so in the sports apparel industry, and struck a balance between developing environmental conservation activities and environmentally friendly products and improving operational efficiency through conserving resources. The EMS Committee implements an environmental management system based on the ISO 14001 certification, while the Development Committee promotes the development of products with reduced environmental impact and recycling activities.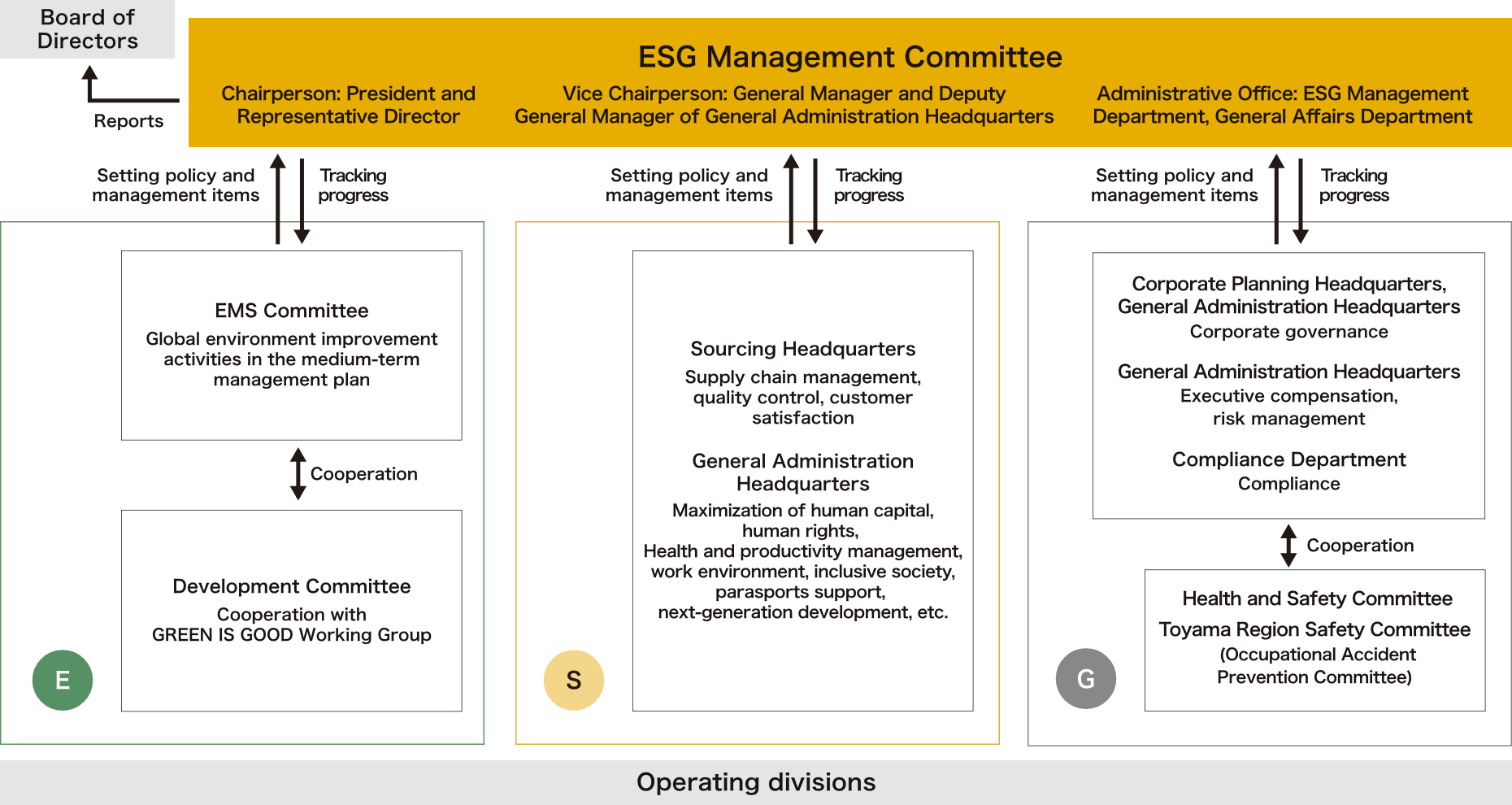 Value co-creation with stakeholders
Ever since its founding 70 years ago, GOLDWIN has been on track for growth. We believe this is a result of continuously keeping pace with our customers including top athletes, our employees and their families, business partners, financial institutions, shareholders and investors, local communities centered on our birthplace in Toyama Prefecture and our headquarters in Shibuya, and the rich natural environment that is inseparable from sports. At GOLDWIN, we always consider and value our stakeholders to achieve our legacy of creating a fuller life with sports while co-creating value with them.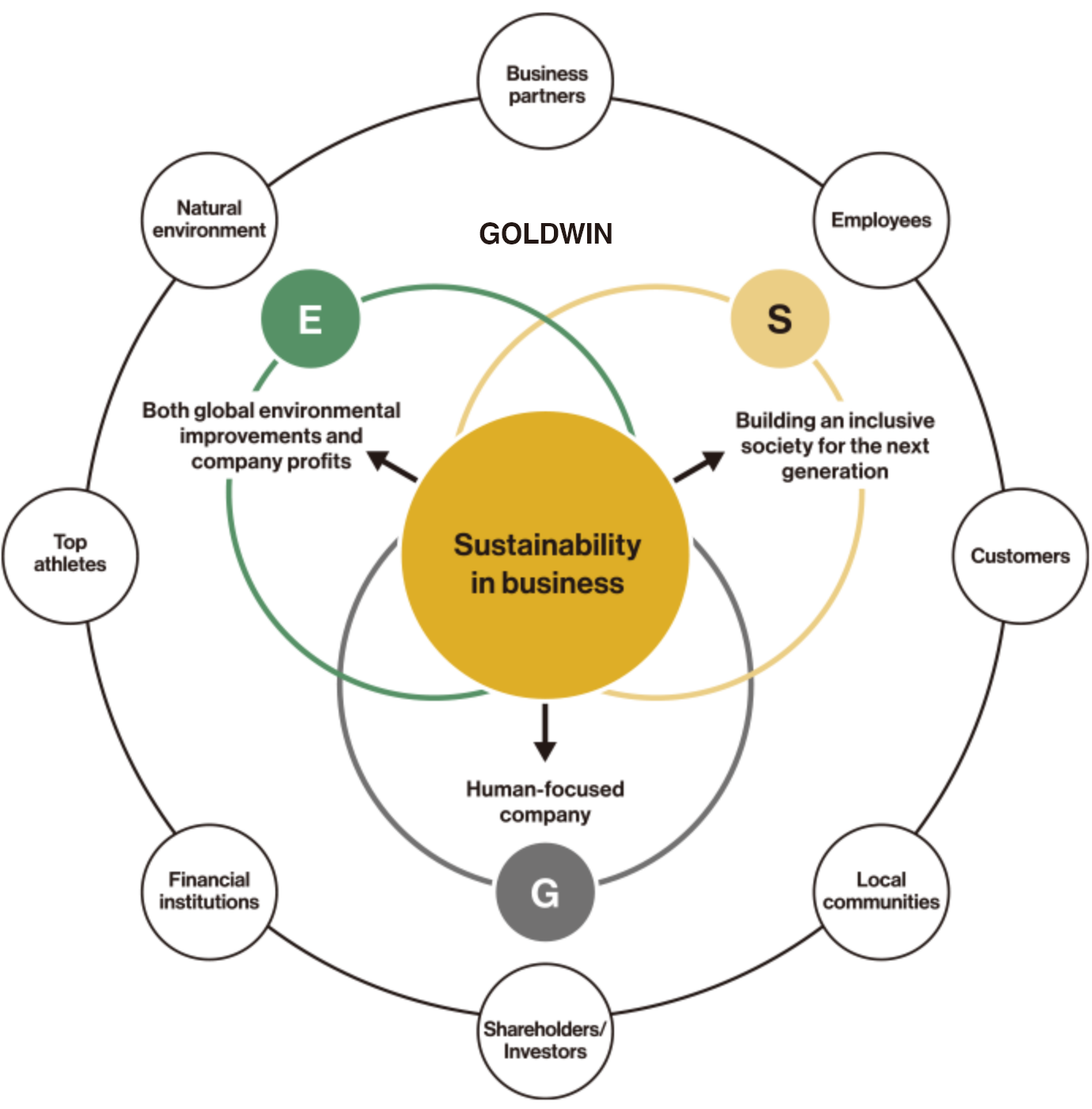 ESG management key issues
We identify three themes and nine items as the GOLDWIN key issues to co-create value with stakeholders and concretely promote ESG management. At GOLDWIN, all business execution departments participate to implement initiatives for these nine key issues under the supervision of the ESG Management Committee.