Corporate Governance
Basic concept
Under the tag line "SPORTS FIRST," GOLDWIN's mission is to realize a fulfilling and health y lifestyle through sports. We recognize that it is essential for our business activities to fulfill our social responsibilities as a company, which include, compliance with laws and regulations, establishment of internal control, improvement of customer service, emphasis on the environment, thorough management of occupational safety and health, protection of human rights and contribution to society. It is also essential that we are trusted by all stakeholders, that we seek to expand our profitability and strengthen/improve our management structure, and that we maintain long-term and stable return of profits to our shareholders. With this basic idea as our foundation, we strive to improve our management fairness and transparency, make accurate and prompt decisions, and execute our businesses efficiently in order to strengthen and enhance our corporate governance. We thoroughly instill these ideas in all of our officers and employees through our principle "Strong, Fast, Transparent Management."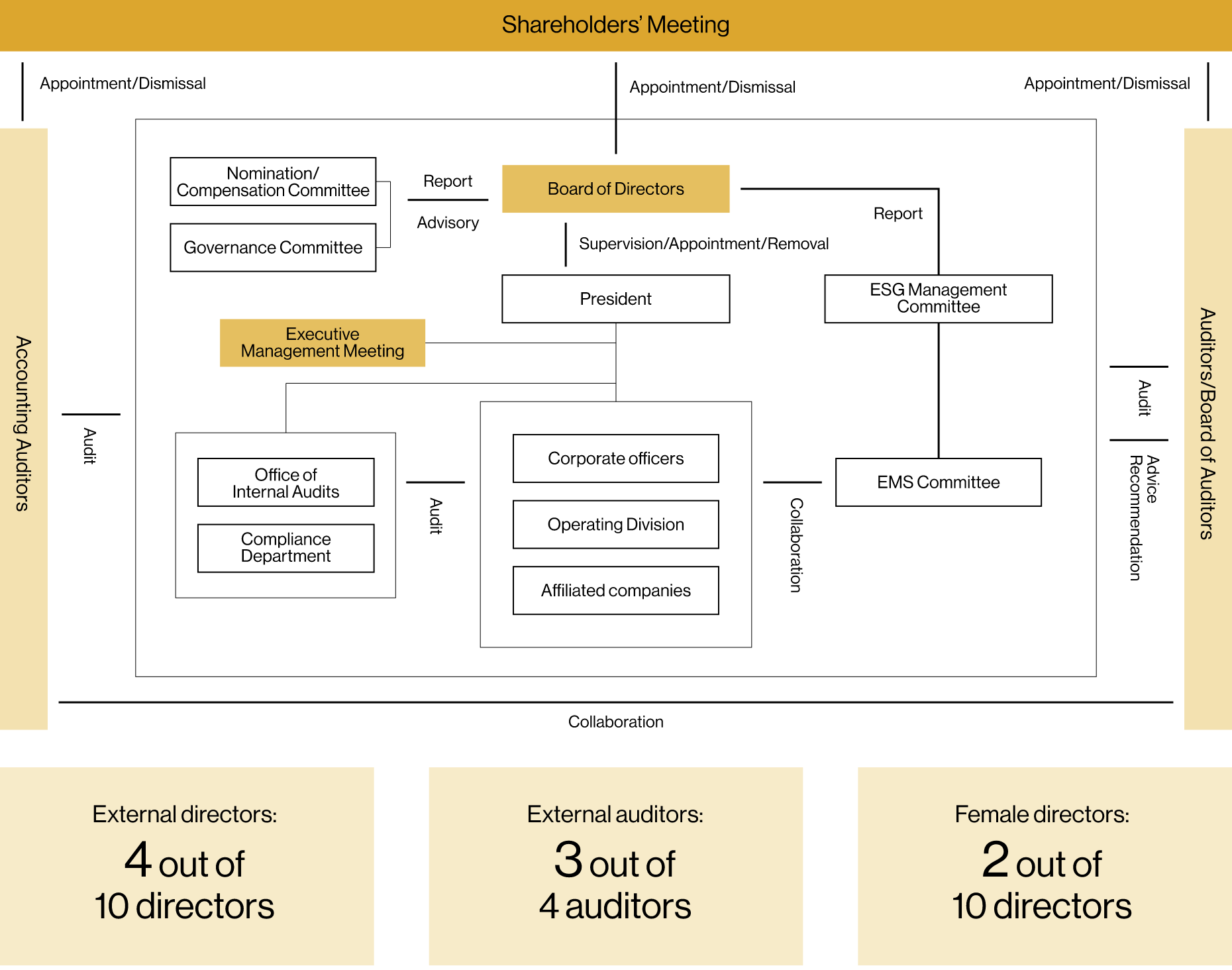 Overview of every institution
Institutions
Structure
Activities
Board of Directors
Chairperson: Chairman and Representative Director
8 directors, 4 auditors
● Deliberating important matters, auditing management and discussing management policy
Board of Auditors
Chairperson: Full-time corporate auditor
1 full-time corporate auditor, 3 external auditors
● Auditing the progress of business operations by the directors
Executive Management Meeting
Chairperson: President and Representative Director
Chairperson of the Board of Directors, 9 corporate officers, 1 full-time corporate auditor
● Decisions on business operations and execution of operations
Nomination / Compensation Committee
Chairperson: External director
2 internal directors, 4 external directors
● Defining the roles, authority and other aspects of officers (directors and auditors) and corporate officers, and appointing them
● Deliberating over dismissals
● Verifying incentive scheme for officers
● Examining succession measures for officers
Governance Committee
Chairperson: External director
3 internal directors, 2 external directors, 1 full-time corporate auditor
● Enhancing the effectiveness of corporate governance code requirements
● Examining countermeasures for major governance risks
ESG Management Committee
Chairperson: President and Representative Director
Leaders from each division including at subsidiaries participate
● Reviewing the status of key issues pertaining the implementation of ESG management as mentioned in the medium-term management plan
Executive compensation
The officer incentive scheme at GOLDWIN is a fair compensation system corresponding to each officer's role and responsibilities and is established in the basic policy to promote sustainable growth and improve the mid- to long-term corporate value. From the perspective of objectivity, the compensation system and criteria are revised considering economic conditions, our performance and criteria at other companies. From the perspective of transparency, the Nomination and Compensation Committee, which is comprised of more than half external officers, gives advice on the compensation system and criteria. Compensation for internal directors shall be consist of basic compensation, performance-related compensation and non-monetary compensation. Only basic compensation shall be paid to external directors responsible for auditing functions taking into account their duties.
Content of director compensation
Types of compensation
Payment method
(fixed/variable)
Content of compensation
Basic compensation
Cash (fixed)
At GOLDWIN, basic compensation for directors is a monthly fixed compensation and is paid evenly each month. Basic compensation is an amount corresponding to one's position and responsibilities.
Performance-based compensation
Cash
(variable)
Performance-based compensation aims to heighten the awareness of yearly performance improvements by paying internal directors an even amount calculated based on the companywide performance for each fiscal year on each month the following year.
Stock-based compensation
Non-monetary (variable)
Non-monetary compensation aims to incentivize sustainable growth and improved corporate value in the mid- to long term and to enhance value sharing with shareholders by granting restricted stock to internal directors. The number of shares granted shall be determined by the Board of Directors taking into account position and responsibilities within the scope of the limits on compensation as decided at the shareholders' meeting. Additionally, the Board of Directors shall also determine the duration and terms for providing specific compensation.
FY 2020 status (April 1, 2020 to March 31, 2021)
Officer classification
Total compensation
(Millions of yen)
Total of each type of compensation (Millions of yen)
Number of relevant
officers (officers)
Fixed compensation
Performance-based
compensation
Retirement allowance
Non-monetary
compensation in the left columns
Directors
(excluding external directors)
297
297
─
─
─
7
Auditors
(excluding external auditors)
15
15
─
─
─
1
External officers
51
51
─
─
─
6