Human Resources and HR Strategy
Basic concept
From almost our very beginning, we have viewed the world through the lens of sports and pursued making life more fulfilling through sports. Then and today, our athletic and outdoor products are designed to make life richer. Running through all our activities, from product planning and development to production and sales, is our desire to share SPORTS FIRST, which represents our love of sports and faith in the power of sports. To share SPORTS FIRST with as many people as possible, we have developed advanced technologies and design skills as well as marketing activities attuned to the times and persuasive communication. Most of all, we live SPORTS FIRST and put our passion into action, making sports a priority in our work and our personal lives. We have inherited this legacy and corporate culture and continue to build on it with initiatives for attracting diverse talent, employee health and safety, talent development and career path planning, and creating employee-friendly workplaces to maximize our human resources.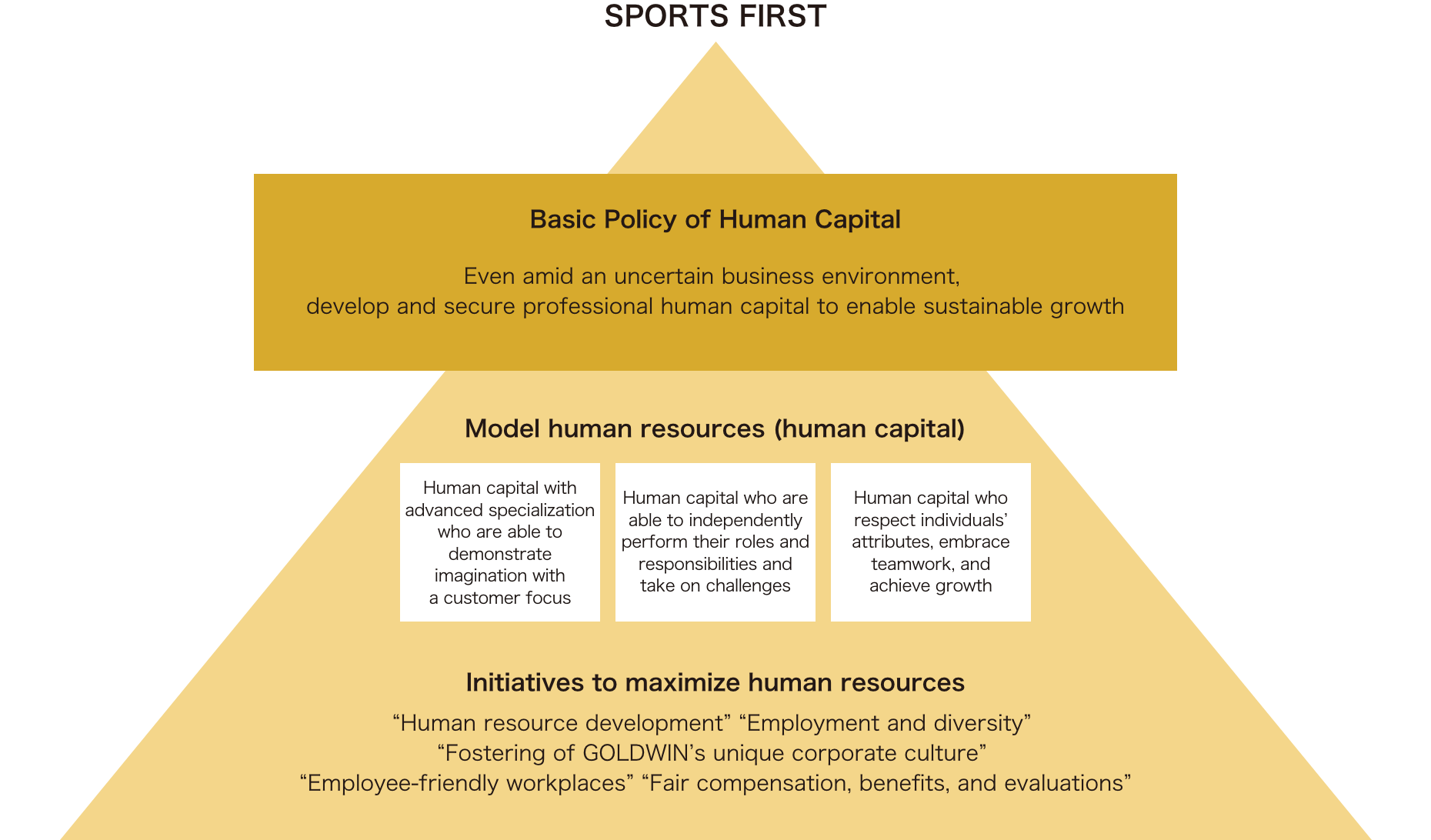 GOLDWIN's corporate culture and legacy
We are proud of the technical mastery and know-how we have inherited from our predecessors, and preserve their legacy while engaging in our current corporate activities. Our commitment to SPORTS FIRST runs through everything we do, and our employees' lived experience of sports informs our products and services.
Monument honoring our predecessors
GOLDWIN founder Tosaku Nishida erected the Remembrance Monument in Oyabe, Toyama Prefecture, Japan to honor the accomplishments and memory of our predecessors who overcame many obstacles to build GOLDWIN. Our management team has a tradition of visiting the Remembrance Monument to pay their respects to these predecessors after the shareholders' meeting every year. This tradition not only honors their memory but nourishes in our current leaders the same spirit of determination and passion our predecessors had as we look ahead to our future.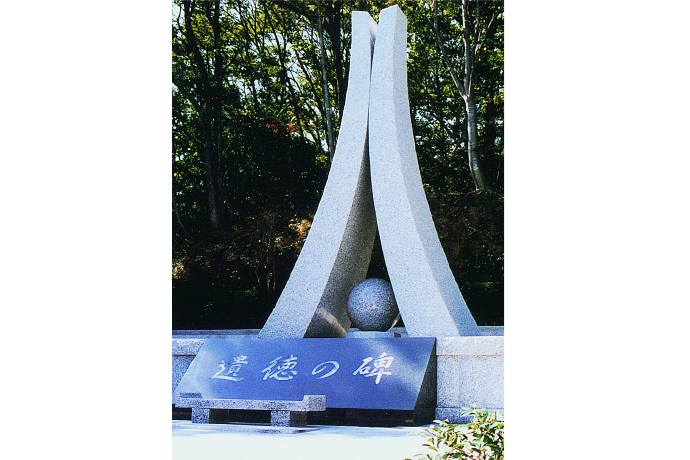 Sharing information, goals and our company spirit
In past years, we held multi-day training intensives for new employees and senior management at important Shinto shrines and Buddhist temples in Toyama Prefecture, Japan. Traditions at these trainings included early morning cleaning sessions and forging mental strength through lectures and meditation. They were opportunities to focus intently on problems and future issues and how to address them as well as to unite hearts and minds. Today, these trainings take the form of an annual senior management conference to share our management policy, company goals and other key information. This conference has been held online during the COVID-19 pandemic.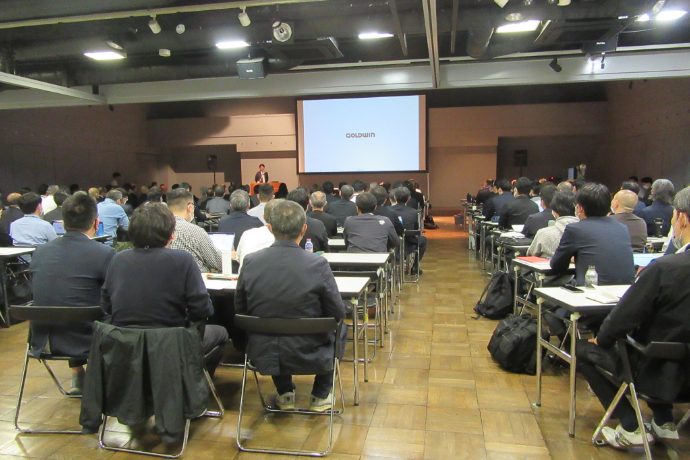 Visits to Ise-jingu Shrine to give thanks, learn cultural continuity
In the words of GOLDWIN founder Tosaku Nishida, "There are things in this world that are greater than any human power. When you feel lost, cleanse your soul, banish evil thoughts, and think seriously about what you should do with a pure heart before the gods and Buddha. When you do, you will instinctively see the path forward." Every year, employees who have reached specific years of age considered unlucky in Japan pay a visit to Ise-jingu Shrine. This is an opportunity for employees to give thanks to their ancestors and family, pray for good health, and learn about the importance of preserving continuity through the history of Ise-jingu Shrine being rebuilt every 20 years.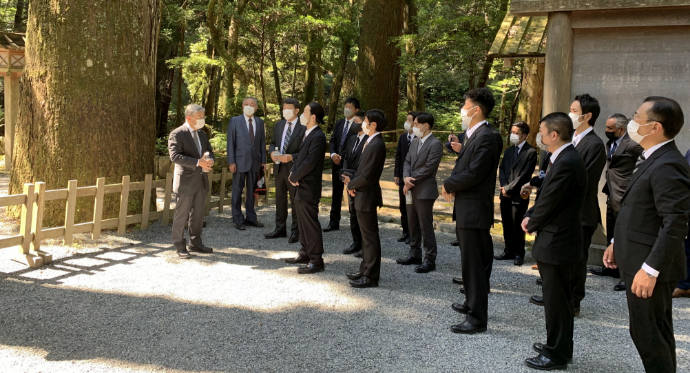 SPORTS FIRST MAG: New type of online media
SPORTS FIRST MAG publishes interviews with GOLDWIN employees and sponsored athletes, profiles of people who live a SPORTS FIRST lifestyle, and articles about the intersection of sports and work and useful information in the world of sports. This new type of sports media highlights people, goods, lifestyles and work that place top priority on a love of sports instead of ability or physical strength.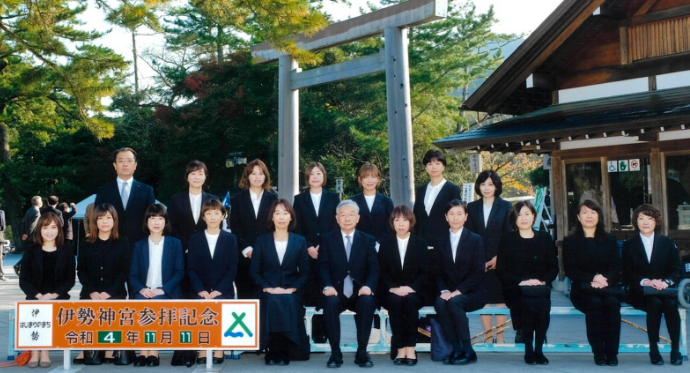 Sports events where employees embody SPORTS FIRST
GOLDWIN sponsors events including the ULTRA-TRAIL Mt. FUJI, an international trail running race over 160 km long, and the Toyama Marathon held in Toyama Prefecture. Many of our employees enter these events as competitors and participate as staff and volunteers helping to run the events. These are just a few examples of how our employees live SPORTS FIRST.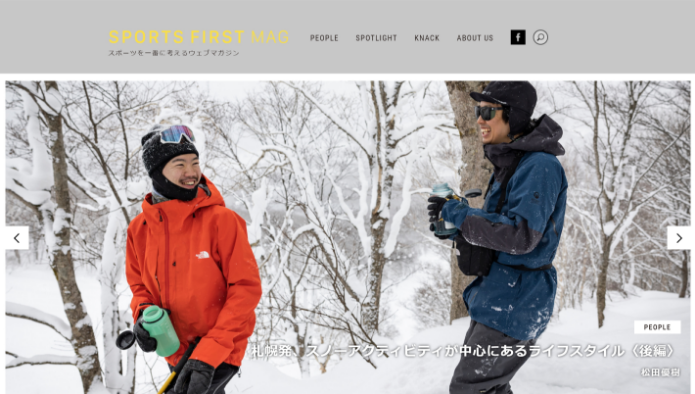 SPORTS FIRST AWARDS
The SPORTS FIRST AWARDS program recognizes employees who epitomize SPORTS FIRST, which is both our tagline and our employee code of conduct. Every year, employees vote for the colleagues featured in SPORTS FIRST MAG over the previous year who they feel most personify SPORTS FIRST, with the top three vote-getters receiving an award plus a cash prize and a special holiday.