Realization of a circular society
Basic concept
An effective utilization of limited resources is one of the pillars of our environmental policy, and we strive to reduce our use of such materials. We reduced raw material losses, made design improvements using feedback from complaints and repair work, implemented thorough management of our equipment and manufacturing processes, reduced the amount of distribution and packaging materials, improved efficiency and management by revising how we conduct our work, and improved our system of reusing old products collected with product collection techniques.
Reducing Industrial Waste
GOLDWIN's environmental policies also include the reduction of waste from products and raw materials. To this end, we strived not only to reduce waste but also to promote product recycling. We will continue our efforts to reduce industrial waste by encouraging programs that; produce less waste, effectively use excess material, reduce defects and recalls, control product-order flow, eliminate processing losses, promote recycling through classification and sub-classification of waste, and with the promotion of 5S activities.
Total amount regulation by strengthening order flow
In the apparel industry, the major environmental issue is the issue of product waste due to excessive supplies. With the shift to an actual demand business model from 2000, we commit to order flow management and strictly manage the total amount of procurement. Additionally, we reduced the sales loss rate by 1.8% (FY 2020) through the development of flagship products that customers can enjoy as long as possible and a fast inventory flow during the s ales period.
Enhanced recycling
We started a recycling in collaboration with various partner companies in 2008. In this activity, we collect garments that are no longer needed regardless of the brand, quality and condition, and turn them into raw materials for new products. In FY 2020, 3,855.7 kg of garments were collected. We set up recycle boxes at 131 stores throughout Japan (as of March 31, 2021), mainly at our directly managed stores, to facilitate product collections from customers. Moreover, we collect products at sports events, such as Toyama Marathon and ULTRA-TRAIL Mt. FUJI, and facilitate recycling activities for a cyclical business in collaboration with partner companies (Kawada Feather Co., Ltd., Toray Industries Inc., Hasetora Spinning Co., Ltd., JEPLAN, INC. [Japan Environment Planning K.K.]).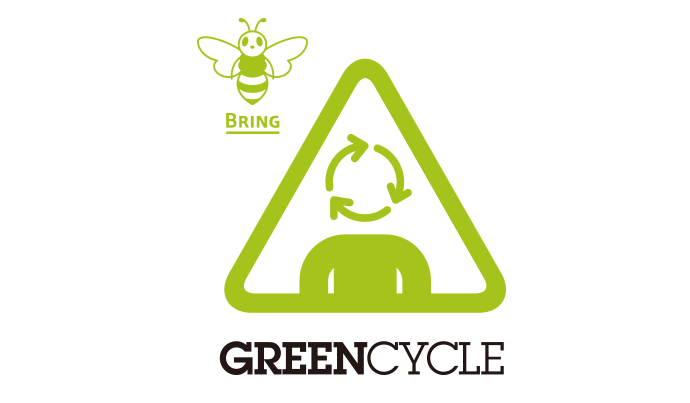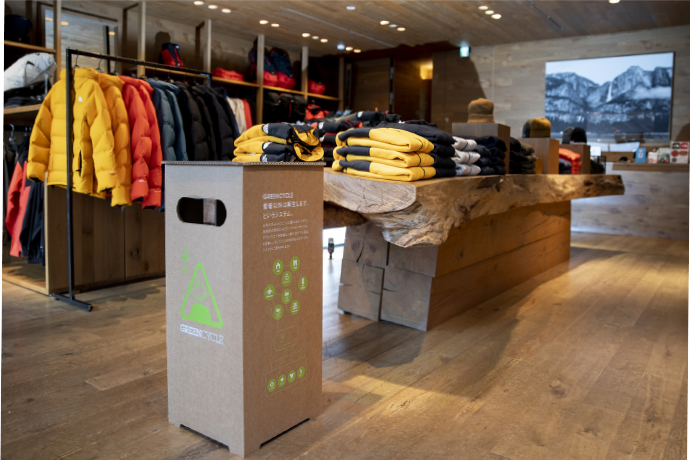 Product collection results
| | FY2016 | FY2017 | FY2018 | FY2019 | FY2020 |
| --- | --- | --- | --- | --- | --- |
| Amount collected (kg) | 2,400.5 | 3,198.5 | 3,198.5 | 3,193.3 | 3,855.7 |
Repair Service to Encourage Long-Term Use
THE NORTH FACE provides repair services with strict policy that provides "free repairs on items with material or manufacturing defects, and repairs on other cases for reasonable prices." Repairs are offered not only for outdoor items from brands such as THE NORTH FACE, but also for motorcycle, ski, and athletic apparels. In addition, this service offers free repairs on kind's items (excluding some items.) Due to an increased awareness towards the environment, we have been receiving more repair requests as an extended use of a single item became more popular.
HELLY HANSEN H2O® Project
In June 2021, HELLY HANSEN started the H2O® Project. This is a comprehensive project to conduct activities to review, learn about and improve global water resources with our customers. At the following website, we introduce our microplastic collection trial, in which we install SEABIN, a bin to collect debris floating in the ocean, as an initiative to solve the issue of plastics in the ocean environment.
Shift to biodegradable polymer straws at directly managed stores
THE NORTH FACE has used straws made with the KANEKA biodegradable polymer, Green Planet™ at five stores with cafes since April 2021. Green Planet™ is 100% plant-based and biodegradable polymer produced by a microorganism fermentation process, in which plant oils are used as a primary raw material, and shows excellent biodegradability under a wide range of environments. The use of these straws made with Green Planet™ will contribute to the reduction of marine pollution.
Companywide elimination of PET bottles
Since FY 2020, we have eliminated the usage of PET bottles in our offices throughout Japan. The Tokyo Head Office purchased approximately 36,000 PET bottle drinks (500 ml) annually, but employees utilizing their own thermos bottle lead to their heightened environmental consciousness while simultaneously reducing the usage of PET bottles and contributing to global environment conservation.