How It All Began /
Origin of Company Name
How It All Began
The origins of GOLDWIN are best explained in the words of gratitude expressed by the late Tosaku Nishida, the founder of GOLDWIN Inc., when he was awarded the Order of the Rising Sun, Gold Rays With Rosette, in May 2000.
I was the youngest child in a big farming family living in the remote country town of Tsuzawa, Toyama Prefecture When I was young, World War II broke out, and all of my brothers and brothers-in-law were sent to fight. It was very sad that most of them did not come back from the war or did not survive the devastation of the aftermath, and their widows and small children were thrown into poverty and misery. Faced with having to support the remaining family members somehow, I started Tsuzawa Knit Products Manufacturers with a brother-in-law who had been wounded in the war. This is how GOLDWIN began.
GOLDWIN has faced difficulties more than a few times along the way, but has been able to continue thanks, above all, to your constant strong support and encouragement. I am very deeply grateful to all who helped us out. GOLDWIN would not exist today had it not been for you.
Looking back, I feel more convinced than ever that I made the right decision to choose sports as our main business early on.
I saw interest in sports surging in Japan after the war. Sports not only soothed the distress of the people in but restored theirvigor. I also saw sports as playing an important role in expanding and deepening our friendship with people worldwide, helping us establish closer ties beyond our borders with people of all races and languages.
I am truly grateful for I having been able to lead a fulfilling life, thanks to fate bringing on the ordeal I experienced in the postwar years and also to the healthy and robust body my parents blessed me with.
Let me reiterate my sincere and heartfelt thanks to you all. I am determined to renew my efforts to improve GOLDWIN's business results, and moreover, to pay careful attention to sustaining my good health from now on.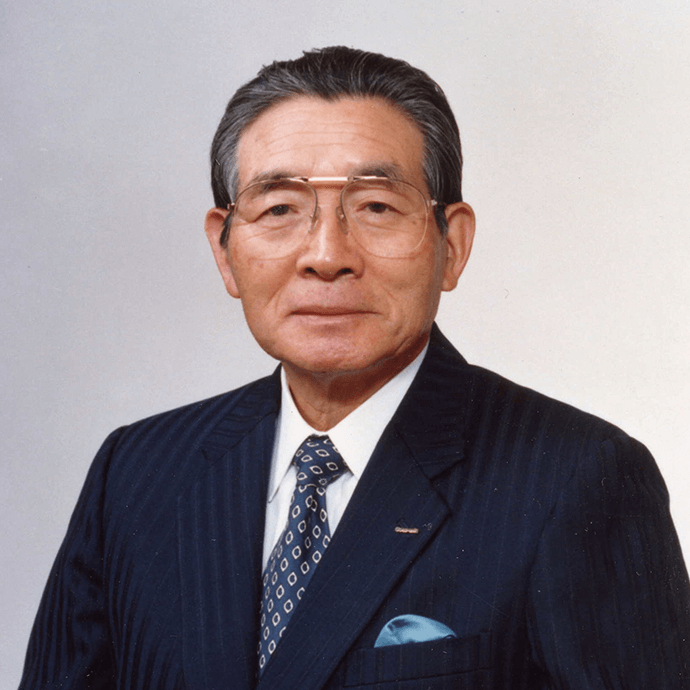 Origin of Company Name
Goldwin means golden victories.
In Ancient Greece, where the Olympics originated, wreaths of laurel leaves were awarded to the victors, who were called "gold winners." That's why we renamed our company "GOLDWIN" in 1963—the year before the Tokyo Summer Olympics—to send our best wishes to our athletes competing for the gold.Among the total of 16 Japanese athletes who won gold medals at the Tokyo Olympics, 12 wore GOLDWIN sportswear.